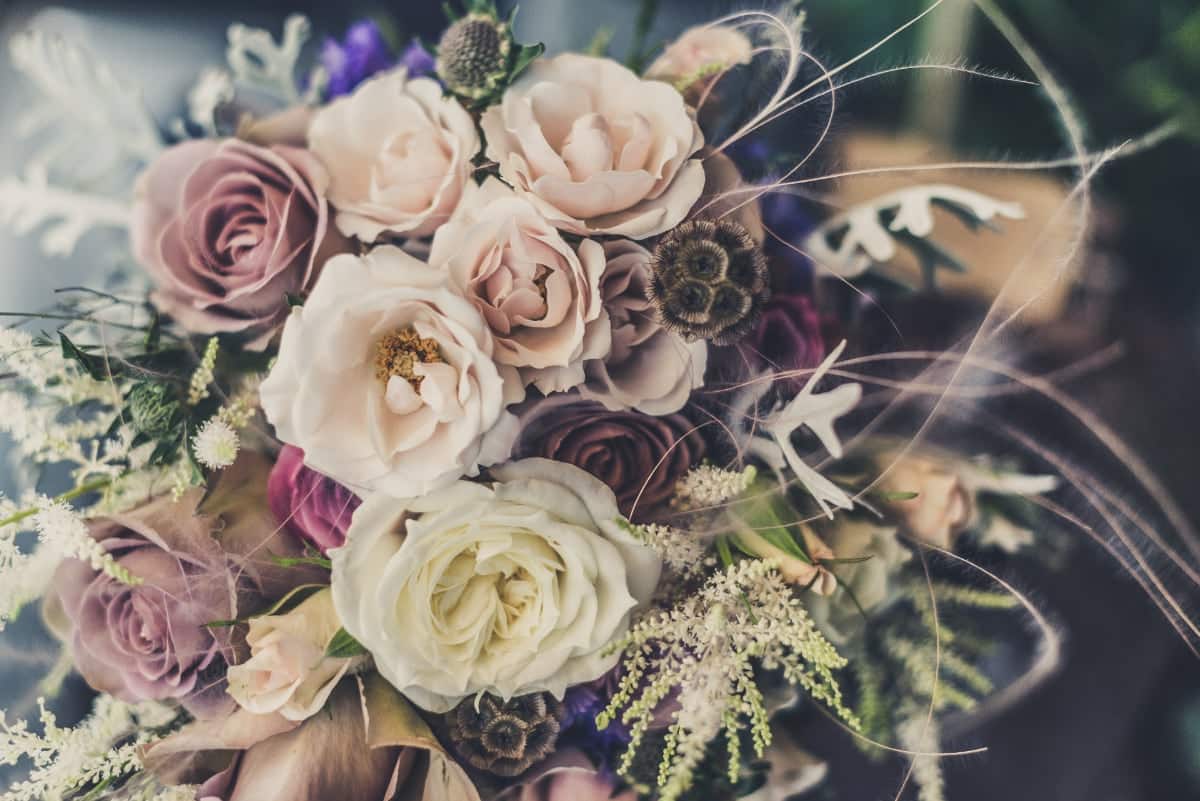 Arranging funeral flowers is a caring gesture to honour a person who has died. It feels like a comforting and symbolic way to say goodbye, and lets the bereaved family know you are thinking of them.
Unless a family has given instructions regarding funeral flowers, you may be wondering whether to send flowers or what the etiquette is. To answer some of your questions, we've compiled a list of the most commonly asked questions…
What is the difference between funeral flowers and sympathy flowers?
Funeral flowers comprise formal sprays, wreaths or displays that are placed on or around the coffin. They are often placed with the coffin in the hearse or used to decorate the funeral venue.
Sympathy flowers are sent directly to the bereaved family home and are more informal in nature. They typically comprise bouquets of flowers or potted plants and are sent by relatives, friends and close acquaintances to send a condolence to a family.
Who should send funeral flowers?
Anyone can send funeral flowers unless the family have specified otherwise, and there should be instructions on the funeral notice about where and when to send them. If you are unsure then try to speak to a member of the family to find out what they would like, or alternatively the funeral director may be able to advise you.
Sometimes a family will opt for charity donations in lieu of funeral flowers. The bereaved family will usually choose a charity that was important to the deceased. Anyone can make a donation, and this can be made direct to the family, the funeral director or through an online donation website like Much Loved
Where and when should funeral flowers be sent?
Depending on the intended purpose of the funeral flowers will depend on where and when they should be sent. If the flowers are to display on or around the coffin, your florist should send them to the funeral director on the morning of the funeral. If the flowers are being used to decorate the funeral venue, then they usually need to be sent there prior to the funeral. You can also take flowers with you to a funeral service. The funeral director will often find a suitable place to display them for you.
Make sure you leave plenty of time (at least 48 hours) to arrange funeral flowers, and speak to the funeral director about where and when to send them. Many florists will also liaise direct with the funeral director or venue to ensure the flowers are delivered to the right place at the right time.
How much should I spend on funeral flowers?
There is no set amount you should spend on funeral flowers and the amount spent will differ from family to family. Flowers can be costly, so try to remember that the gesture is more important than the price you pay.
A good florist will be able to offer advice on the different choices you have, the types of flowers to choose and what costs you can expect. You may find that opting for seasonal flowers helps to create a more abundant display for less of a price tag. Or alternatively grouping together with other friends and family can make it more affordable.
Where donations have been requested, there is no set amount you should contribute. Perhaps consider what you would have paid for flowers and contribute the same amount to the chosen charity.
What type of flowers should I send?
Whilst there are specific types of flowers and colours that are traditionally used at funerals, you can choose whatever you would like to be included. If the deceased had a favourite colour or type of flower, it can be a very personal gesture to include them in a floral tribute. A good florist will be able to guide you to ensure the flowers set the right tone.
For more traditional funeral flowers, lilies, roses, carnations, gysophila, gladioli, tulips, orchids and chrysanthemums are all popular. White is the traditional colour for funeral flowers but other colours can also have great symbolic meaning. For example, red roses represent love and respect and are a popular choice at many funerals.
What should I write on the card?
Finding the right words to express your condolence on a sympathy card can be challenging. The cards on funeral flowers tend to be small, so try to keep your message short and heartfelt. Include a few words or a short sentence, and remember to put who the flowers are from, including your surname if necessary.
Some popular examples include…
With deepest sympathy
Forever in our hearts
Our thoughts are with you
Rest peacefully
We are so sorry for your loss
We'll always love you
Are there any cultures where sending flowers isn't appropriate?
In many cultures and faiths, sending flowers is a welcome and traditional way to express sympathy. There are some cultures that avoid the giving of flowers altogether, so try to find out from a family member, the funeral director or person conducting the funeral what is most suitable.
In some faiths, such as Jewish and Muslim funerals, sending flowers isn't customary. In the Jewish faith, sending a fruit or food basket is a more traditional way to offer condolence, whilst in the Muslim faith it will depend on the family and religious leader as to whether flowers are allowed. Many Muslim funerals embody simplicity and moderation, and so flowers should be avoided.
As with any funeral, different families will have their different beliefs and some will be more relaxed than others. If in doubt stick to tradition to avoid causing any stress to the bereaved family.
What happens to flowers after a funeral takes place?
The bereaved family will usually decide what to do with the funeral flowers. Unless specified, the funeral flowers will usually be left at the graveside or in a memorial garden. You could choose to take some of the flowers home with you or give them away to friends and family. If there was a floral arrangement that felt particularly special, you could also consider pressing the flowers and creating a unique keepsake out of them.
Here at Dillamore we have a knowledgeable team of funeral arrangers who can answer any questions you may have about funeral flowers. We work with a number of florists in the local area and would be more than happy to put you in touch. You can call us on 01525 372210 or else use our contact form to send us an email.