Why Dillamore?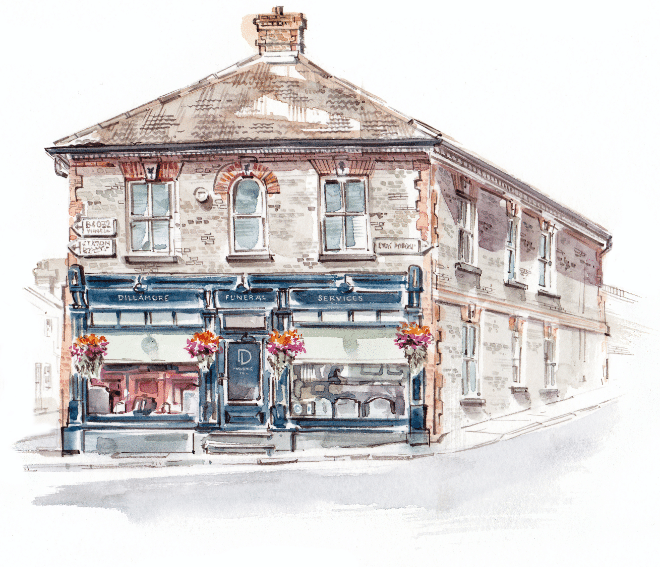 Dealing with the death of a loved one can be overwhelming. Here at Dillamore we provide funeral services that truly reflect a person's individual wishes, and our intention is to bring peace of mind to everyone we support. Our experience, flexibility and meticulous approach ensures that you and your loved ones will have memorable moments that matter.
A trusted family business
Dillamore prides itself on being a trusted, independent family-run business that has been serving Leighton Buzzard's diverse community since 1923. Our team comprises both family members and local people, and we take pride in offering a caring and professional service. We are here to take care of you, your family and the local community, in the same way we would care for our own family.
Serving the community for 100 years
We have been providing funeral services to local families for 100 years and are proud to be one of Leighton Buzzard's oldest family businesses. Our experienced team can support you in arranging a funeral of all different faiths and beliefs, and our long-established relationships with churches, cemeteries, celebrants and ministers help us to provide an unrivalled service in the local area.
Your loved one is cared for at our funeral home
We understand that peace of mind comes in knowing that your loved one is taken care of with kindness and respect. When someone arrives with us, they will be looked after at our premises on Old Road for the duration of their stay and will never be moved to a separate location. This ensures we can provide the very best care for the deceased, and means you can visit your loved one whenever you wish.
A comfortable and modern Chapel of Rest
Our newly refurbished Chapel of Rest provides a soothing setting for anyone wishing to visit their loved one during their time with us. Located on our premises, the Chapel of Rest offers full privacy for you and your family to spend time with your loved one in a calm and meaningful way. Our aim is to make your experience as peaceful as possible, and we will provide you with as much support as you need during your visit.
A flexible and personalised approach
We understand that no two funerals are the same, and what feels right for one family may not feel right for another. Our experience and knowledge allows us to work with each family on an individual basis, fulfilling your needs and wishes to create a meaningful and memorable goodbye. Nothing is too much trouble and we provide personalised care and attention to everyone we work with. Our team are on-hand throughout the experience to provide advice, guidance or a friendly ear should you need it.
A caring and supportive team
Losing someone is one of the most difficult things a person can experience, so providing a caring and supportive service is at the heart of everything we do. Our aim is to provide you with a sense of comfort as the funeral arrangements are made, taking on as much of the burden as we can to support you during this time. We are available 24/7 in the days following a person's death and are on-hand to provide care, guidance and a sense of comfort should you need it.
Flexible pricing to suit every budget
Everyone should have the right to a dignified and respectful funeral, and we aim to make our funerals as accessible as possible. Our flexible approach to planning allows us to work with most budgets and our aim is to arrange a funeral that doesn't cause you any financial strain. We provide full transparency regarding funeral costs and will offer advice and guidance whenever it is needed. Our fees, and the service we provide to you, remains the same no matter how expensive the funeral is.
TESTIMONIALS
On behalf of the family I would like to say thank you to Dillamore for organising the funeral of my husband. You did a superb job of making a difficult day as seamless as possible.
Sandy
We would like to thank you all for your help, support and professionalism during a very sad time. It made it so much more bearable for us.
Luca, Sarah and all our family
Thank you again for yesterday's arrangements and please give our warm thanks to your colleagues who looked after Ellie and us so well. Reverend Minton conducted a moving and lovely service, there was not a dry eye in the house. Beautiful Ellie was given a beautiful send off, it was a funeral like no other.
David
Many thanks to the team at Dillamore for a very personal and professional funeral for my mother. It was a very difficult time and I appreciate all the help you gave us to get us through the process.
Thank you to everyone at Dillamore for everything you did for us to lay our daughter to rest - exceptional doesn't do your service justice. Everything has been flawless from start to finish and you have made this extremely difficult time just that bit more bearable and given us a place to be able to visit her.
I cannot thank the team enough on how they have treated myself, my dad and family over the last few weeks. The team behind the scenes are fantastic too, they made my mum look beautiful when we came to visit her. The team were absolutely fantastic on the day of the funeral – so sweet, patient and sympathetic – and made the day go very well. Thank you so much, without your help and support the experience would have been totally different.
I don't know what we would have done without your incredibly lovely team - you have all been so wonderful the whole way through - I can't tell you how much I appreciate it.
We would just like to compliment the team for yet another professional service. This is the reason we insist on using you guys. We really can't thank you enough for the time and care you put in.
May I and my family thank you and your staff from the bottom of our hearts for the exemplary way in which my late father's funeral was carried out. From the moment I arrived on your premises to the end of the service, I have never been more impressed. Please thank your wonderful team for making the day such a memorable occasion. You must be very proud to have such a team working for you.