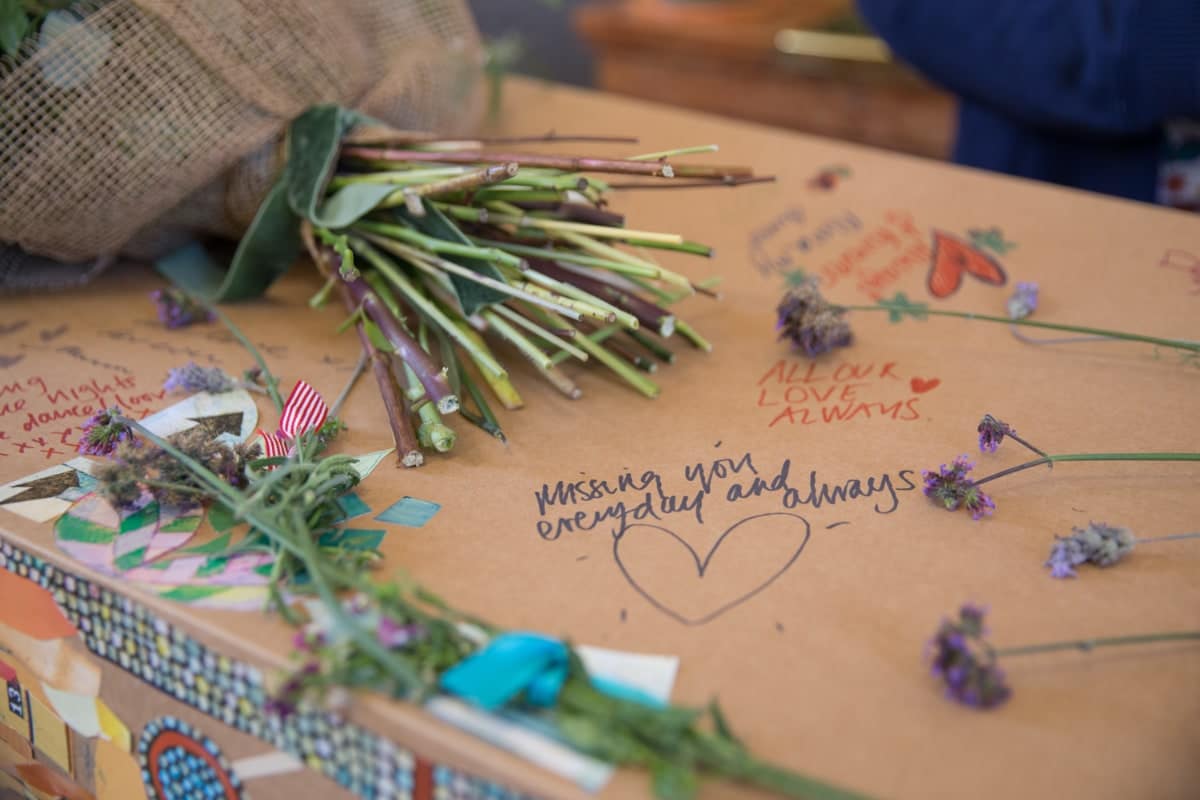 Funerals today are often as much about celebrating a person's life as they are about saying goodbye. That's why more people than ever are looking to personalise the funeral of a loved one. The addition of some well-thought-out touches can help to create a funeral that feels personal and reflects the person who has died. In our latest blog, we've listed ten ideas to make a unique funeral.
1. Pick a theme
There are many ways you could theme a funeral, and considering a person's hobbies, passions and interests will help you to choose a theme that feels heartfelt. A theme can be as obvious or subtle as you want, but try to make it feel personal to the person who has died. Some ideas include…
Choosing a person's favourite flowers for the floral tributes
Asking mourners to wear certain colours, such as from the deceased's beloved sports team
Theming the funeral around a particular genre of music, such as britpop or punk rock
2. Get creative with transport
If you don't want a black hearse, there are lots of more unusual choices out there. You could choose a hearse wrapped in a bright colour or pattern, or go for the more traditional choice of a horse and carriage. Alternatively you could consider hiring a vehicle that has been converted in to a hearse – this could include anything from a motorbike through to a bicycle, bus, lorry, camper van or fire engine. Alternatively, if a person had a keen interest in a particular type of vehicle, you could also ask mourners to form a fleet that travels in procession behind the coffin.
3. Choose an unusual venue
Most funerals are traditionally held in more sacred spaces, such as chapels or places of worship, but there are currently no restrictions in the UK about where you can host a funeral. This means that you could choose a location that feels totally unique. Some ideas include a private garden, on a beach, in the deceased's favourite pub or in a beautiful period property. The most important thing is to get permission from the venue or landowner first.
4. Personalise the coffin
Coffins come in many different colours, materials and finishes, so choosing something unusual is easier than ever. Decorative or colourful coffins provide a particularly unique tribute for a loved one – you can choose from pre-designed coffins or else create something bespoke using your own photos or imagery. Another nice idea is to choose a plain cardboard coffin and invite mourners to draw a picture or write a message of remembrance on it.
5. Theme the music and readings
Music and readings are often the part of a funeral that people remember the most. Choosing music that reflects the musical tastes of the deceased is simple to arrange but creates a heartfelt goodbye. For example, if your loved one was a fan of rock music, consider playing music from their favourite band or reading song lyrics during the funeral. You can also find inspiration from films, poetry and books. Another idea would be to organise some live music or a performance at the funeral.
6. Embrace colour
Whilst white flowers and black clothing are traditional choices for a funeral, introducing some colour can work well at some funerals. If the deceased loved colour, was expressive in the way they dressed, or wouldn't have wanted their funeral to be too sombre, consider setting a dress code. This could be anything from choosing a specific colour to wear, accessorising in a specific item or colour, or having a 'no black' policy. This could work with an overall colour scheme, incorporating flowers and decorations… or even a matching hearse.
7. Create a memorable wake
The wake is an ideal time to add in personal touches and there is no limit to what can be arranged. The wake is often the part of a funeral that celebrates a person's life, so you could ask attendees to write in a memorial guestbook, decorate the venue with photos and keepsakes, have karaoke, live music, or play board games. You could even host a firewords display to act as a final farewell.
8. Get creative with food and drink
Food and drink is often a big part of a wake, and many people find comfort in food. Choosing food and drink that reflects the person who has died can feel particularly warming. You could choose to serve a person's favourite food, or opt for food from a specific region or culture. Some ideas include fish and chips, a barbeque or Mexican cuisine. Another nice idea is to serve up their favourite beverage, such as bottles of coke or their favourite beer.
9. Funeral favours
It might seem strange to give something away at a funeral, but offering friends and family a small token of remembrance is a thoughtful way to offer thanks. One idea would be to give everyone a packet of seeds for them to plant. If the deceased was an avid reader you could give away their books to mourners, or alternatively give everyone a photo from an old photo album. Aim to keep the gift small, and ensure it links to the deceased in some way.
10. Create a memorial ritual
Ritual is an important part of most funerals and provides mourners with a symbolic way to say goodbye. Whilst traditional funerals are full of customs and rituals, you could consider creating your own ritual to honour the passing of a loved one. This could be as simple as lighting candles, writing down memories, or carrying remembrance items with you to the funeral. Hosting a balloon or lantern release is another symbolic ritual – just remember to purchase biodegradable balloons or lanterns to keep it eco friendly.