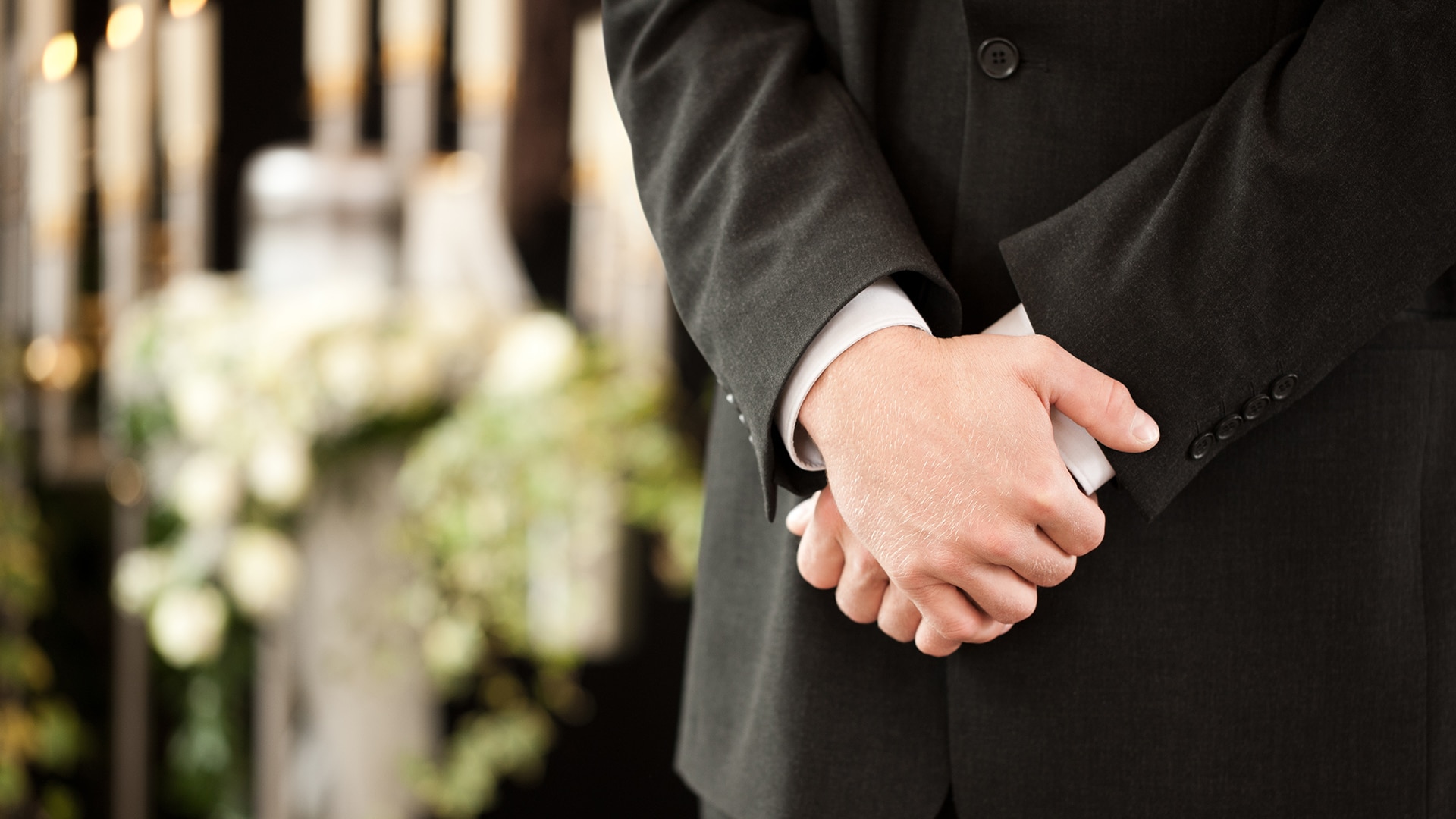 Attending a funeral can raise many questions about the right way to behave and the different funeral etiquette practices that exist. In this guide, we look at some of the most common questions surrounding funeral attendance, including when to send flowers, where to sit and what to say.
Here are our 15 tips for attending a funeral
1: Who should attend
As a general rule, everyone is welcome at a funeral and you don't need to wait for an invitation. This includes those who didn't know the deceased but would like to offer their support to the family or another guest. Witnessing a big turnout at a funeral is often a great source of comfort to the bereaved family.
Some families choose to hold a private funeral service, in which case this will be invite-only. Covid-19 restrictions also mean that there are current limitations to the numbers of people who can attend a funeral. A close friend or family member of the deceased should be able to advise you on whether you are able to attend.
2: Children
Children are very welcome at funerals unless specifically requested by the bereaved family. If your child is older then it is important to ask them whether they would like to attend. It can be useful to talk to them about what will happen at the funeral and how they might feel.
Younger children and babies may find it challenging to sit quietly for the funeral service, so take in to consideration the relationship your child had with the deceased, their understanding of the funeral, and how the immediate family will feel if your child becomes fussy.
It may not be possible to leave a newborn or breastfed baby at home. In this instance you could sit near an exit and step outside of your baby becomes unsettled. Alternatively, you could invite someone along with the sole aim of taking care of your baby during the service.
3: Attending funerals of different faiths
If you are attending the religious funeral of someone whose beliefs don't echo your own, there is no pressure for you to take part in any religious practices that you aren't familiar or comfortable with. A funeral is about paying your respects to the deceased and this can be done simply by listening to the service and being respectful to the other mourners.
4: Clothing
What you wear to a funeral is an important way for you to show respect to the deceased and the other mourners attending. First and foremost you should consider the culture or faith of the deceased and dress according to tradition.
In general, dressing conservatively in either black or dark colours is the most appropriate attire. If a specific dress code has been set, such as wearing a specific colour, try to adhere to it as best you can.
There is no need to agonise about what to wear. Your attendance at the funeral is far more important than what you wear.
5: What to take
Being prepared can help to make a funeral feel more comfortable for you. Some suggested items to take include;
Tissues
Money for a charity donation (please note, due to Covid-19 restrictions, cash donations aren't currently being collected)
A sympathy card
A personal story or memory about the deceased
An umbrella or weather-appropriate items
6: Entering the funeral
The traditional church funeral etiquette is for guests to take their seats prior to the arrival of the coffin. At crematoriums, the congregation will usually follow the coffin and chief mourners in to the chapel. Not all funerals follow the same traditions, however, so please follow the Funeral Directors instructions on the day.
7: Where to sit
At a funeral, the first few rows are usually allocated to the immediate family (chief mourners). The remaining seats are free for everyone else, and you don't need to pick a specific side. Try to avoid sitting too far back at larger venues – this will even out the spread of guests to ensure there isn't a big gap between the guests and chief mourners.
8: Funeral service etiquette
During the funeral ceremony it is important to conduct yourself in a subtle and respectful way;
Arrive early, ten to twenty minutes prior to the start time
Turn off your phone or put it on silent. If it rings, do not answer it during the service
Keep conversations to a minimum whilst you are inside the venue
Don't eat or drink during the funeral service
If there are moments that require your participation, such as singing or standing, get involved as best you can
9: When should I exit a funeral?
At the end of a funeral service, after the chief mourners leave, the rest of the guests will leave row by row, starting at the front and working backwards.
Depending on whether a person is being buried or cremated, there may be an additional committal service after the funeral. Sometimes the committal is reserved for immediate family and friends only, so do check whether you are able to attend beforehand.
10: Taking photos at the funeral
As with any big life event, there may be a big temptation to take photos and document the occasion, particularly if you are reconnecting with old friends and family. However, it is wise to avoid taking any photos at a funeral unless you have permission to do so by a close family member of the deceased. This includes selfies, which will likely come across as disrespectful to the family of the deceased.
If you have been given permission to take photos at a funeral, be subtle in your approach, turn off the flash and ensure you ask for permission before you take someone's photo. Waiting until after the funeral service, when you are outside and away from the other mourners, is often the best time to take a photo.
11: Posting on social media
Always take your lead from the family of the deceased – wait for them to announce the death on social media first before posting anything yourself. Often the most respectful way to engage in social media is simply to comment on a post that has already been uploaded by a family member, offering your heartfelt condolences.
The simplest rule to follow with regards to funeral etiquette at the service is to refrain from posting entirely. You might be tempted to 'check in' or talk about the funeral on your social media pages, but this could be viewed as both insensitive and an infringement of the family's right to privacy.
12: How to offer condolences
Finding the right words to say to someone who has experienced loss can be challenging and you might be concerned about saying the wrong thing. Planning what you would like to say beforehand can usually help you find the right words in the moment. Some sensitive phrases could include;
I'm sorry for your loss
He/she will be sorely missed
You are in my thoughts
If you would like to talk then I am here
Let me know how I can support you
Sharing stories and memories of the deceased is another way to offer your support to the bereaved.
If the funeral has a large number of guests, or the family seem very distressed, it may not be appropriate to approach the family at the service. Sending a sympathy card will be just as gratefully received.
13: Should I show my emotions at a funeral?
There is no right or wrong way to show emotion at a funeral, and everyone will respond differently to the emotions of the day. Crying is a perfectly normal response to have, so let your emotion out if you need to. Being prepared with tissues can help you to feel more comfortable. If your emotion feels overwhelming then quietly leaving the funeral for a few moments is perfectly acceptable.
14: Should I send flowers?
Sending flowers is a thoughtful gesture, but it's important you understand the wishes of the bereaved family, along with any religious or cultural practices, before organising an arrangement.
If funeral flowers and tributes are welcomed then they should be organised at least 48 hours before the funeral. They may be sent direct to the Funeral Directors on the day of the funeral, ahead of the service.
An alternative to sending funeral flowers is to send sympathy flowers to the bereaved family. Avoid handing these over at the funeral service. These should be sent direct to the family home along with a card or note.
15: Making funeral donations
Nowadays it is common for bereaved families to request charity donations in lieu of flowers. Typically cash donations would be collected at the funeral service, however, due to Covid-19 restrictions, donations are likely to be collected by the Funeral Directors overseeing the funeral via online payments. There isn't a specific amount you should donate, simply pay what you can afford. A good starting point is to pay as much as you would have done on flowers.
Whether you are arranging a funeral or are a guest, our team of funeral arrangers will be happy to answer any questions you may have regarding funeral etiquette. Please don't hesitate to reach out to us on 01525 372210 or use our contact form where we can answer any queries you may have.