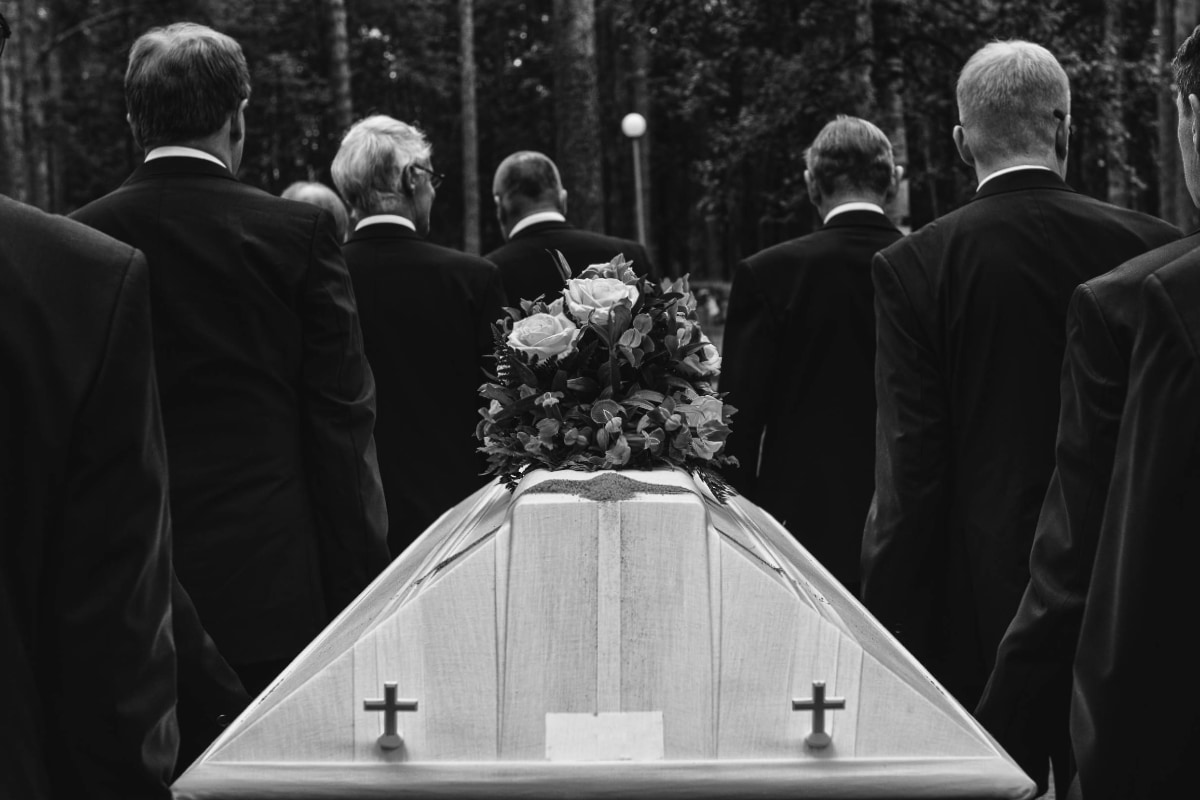 Funerals in the UK are public occasions, which means that anyone can attend a funeral service should they wish. This can make planning the funeral feel like a daunting task, particularly if you expect a large number of people will attend. Your funeral director will support you as arrangements are made, and will have experience and knowledge of how to manage a larger funeral. Here are some things to consider…
Prioritise yourself and your family first
At Dillamore we arrange funerals of all shapes and sizes, and our advice to families is always the same – focus on your own needs, and those of your immediate family, everything else will work itself out on the day.
Whilst it's very normal to worry about others, no one will expect you to cater for them at a funeral. The majority of attendees will be very sensitive to the fact you are grieving and will be very happy to make their own arrangements. No one minds if they have to share an Order of Service, and even at large funerals you'll find that people always leave the first few rows free for the immediate family.
The most important thing you can do is to prioritise your own needs in the lead up to the funeral. This will help to minimise the stress you experience on the day and ensure you and your family have the time and space you need to grieve.
Plan ahead with your funeral director
If you think a large number of people will attend a loved one's funeral, let your funeral director know. They will have experience and knowledge in organising larger funerals and will be able to provide tailored advice and guidance for you.
The role of a funeral director is to support you throughout the process of arranging a funeral. They will speak to third parties on your behalf, liaise with the venue and officiant, and oversee things on the day to ensure the funeral runs smoothly.
A good funeral director will be able to advise on things such as managing a large funeral procession, the capacity at different venues, local parking, how many Order of Service booklets to print, and how to prioritise the family wellbeing on the day.
How to manage invites and attendees
Although a funeral service is a public occasion, the committal service and wake can be held in private. This is primarily down to the personal preference of the family and is a good option for anyone wanting to maintain some privacy on the day.
Because a funeral is segmented in to three sections – the funeral service, committal and wake – there are usually natural breaks in the day which allow you to switch between an open or a closed invite. Whatever your decision, ensure the Funeral Notice clearly communicates which parts of the funeral are open to all and which are invite-only.
For anyone wanting to hold the entire funeral in private, you could opt for a private burial or cremation. In this instance you could choose to have an open invite to the wake, or host a separate memorial service further down the line.
The wake
The wake can take place before or after the funeral service, and is typically an informal occasion. Food and drink is usually served at a wake, although it's not obligatory.
If you want to extend an open invite to the wake, choose a venue that can comfortably cater for large numbers of people. This could include a church hall or community space, a pub, restaurant or private event space, such as a golf club.
It's important to keep your budget in mind when planning a large wake, particularly if you intend to serve food and drink. Large catered events can be expensive, so think about what you can afford and adapt your plan to suit your budget. Some cost effective wake options include;
Booking a church hall or community space and serving tea, coffee and cake
Hiring out a space in a pub and putting some money behind the bar
Hosting the wake at the family home or in the garden
If you are planning a funeral, we are here to help. Our friendly and experienced team can support you as arrangements are made, and will take on as much of the burden as you would like. We can be reached on 01525 372210, you can email us using our contact form, or book an appointment using our online scheduler.